Best U.S Street Food
Here are recommendations of the best USA street food and where to get it. Needless to say, you can get all foods listed below in any U.S state but we've highlighted the best place to get it. Beware – you'll be feeling hungry after reading this.
1. Hot Dogs – Chicago, Illinois
Hot Dogs are extremely popular in America and if you've ever eaten one, you'll know why. And the Chicago-style hot dog wins every time! You'll get a hot dog bun, extra-long sausage, toppings of your choice (onions, relish, chilli, coleslaw are all very popular) and usually ketchup and mustard as the sauce. You really can't go wrong with a delicious Chicago-style hot dog. So simple but so delicious.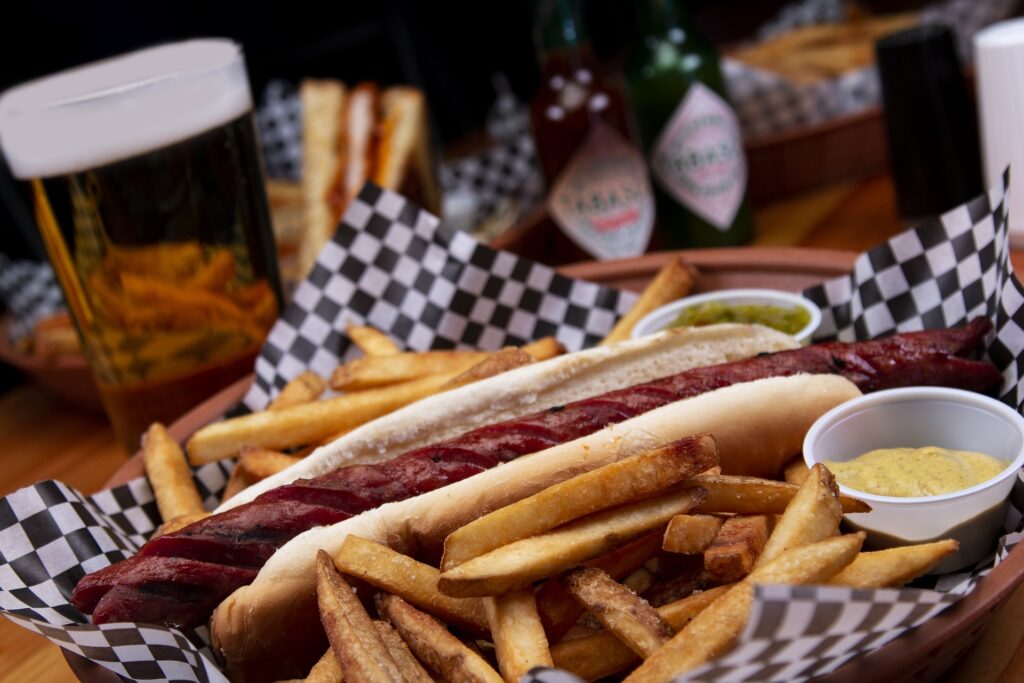 2. Fish Tacos – San Francisco, California
Fish Tacos are of course available all over the USA. But what makes them so popular in San Fransico, California is the sheer amount of varieties you can find. Whether you fancy ocean fish, grilled, fried, battered – you'll find it. All loaded with fresh ingredients and perfectly seasoned.
3. Grilled Cheese – Boston, Massachusetts
This grilled cheese sandwich is absolutely epic. If you're a cheese lover, there's no doubt this will hit the spot. Boston is known for having the best ones in the USA that are easily obtained because of the huge number of food trucks that sell them. The oozing melting goodness is enough to make any tastebuds satisfied.
4. Poke Bowl – Honolulu, Hawaii
A bowl fuel of healthy goodness filled with veggies, whole grains, vitamins and antioxidants! So there's no doubt that you'll be feeling re-energised after eating one. And what better place to get one than Hawaii? well, it's known as the national dish of Hawaii. Mixing American, Japanese and Polynesian. The main ingredients usually include
Raw fish (tuna, salmon, crab are popular)
Veggies (leafy greens, cucumber, onions, avocado are popular)
Other toppings (seasame seeds, garlic and shallots are popular)
Sauce (sriracha and mayo are popular but you choose your favourite)
Grains (white or brown rice, quinoa, kale salad are most popular)
5. Croquetas – Miami, Florida
Also known as "croquettes" is a delicious and tasty snack. They are extremely popular in Miami and are served everywhere out of shop windows and on street food stalls. You can find ones made out of all sorts of ingredients but the most common is ham and chicken. The best-voted place to get them in Miami is 8th street in Miami's Little Havana if you're in the area!
6. Doughnuts – Portland, Oregon
Have you got a sweet tooth? then it's almost essential to grab a doughnut if you're visiting Portland because they are some of the most delicious and largest you will find. It's very common to walk around the streets of Portland and see passersby with a doughnut in hand. You will find ones of all different flavours, fillings and toppings to suit your preferences.